Finally, my first review! One of the main purpose for starting this blog was to rave about my latest book obsessions and it took a while, but, here we are:
Six of Crows by Leigh Bardugo explores the world of The Grisha Story through the eyes of six criminals from the slums of Ketterdam. Their leader, a criminal prodigy, has set them on a course for an impossible heist. Our unusual group of characters, each with their own motivations and agendas, are reluctantly tied together in their first – and quite possibly, their last – mission, gambling their lives for a large sum of money. High stakes, come high rewards and only those dangerous and desperate enough would be able to pull it off. It's exciting, thrilling and will keep you on the edge of your seat with paranoia aimed at the crazy, dangerous plans they'll put themselves through.
I cannot quite put into words how much I love this book! If you look through my other blog posts, you'll probably see lots of name-dropping and hints of my obsession. I haven't read The Grisha Story series by the same author, though I might soon, but it didn't matter much because it doesn't dwell on details from the original books, at all. SoC is its own, wonderful story and whether you're a longtime fan or not, you will definitely enjoy it.
Leigh Bardugo wrote beautifully and Ketterdam felt so very real to me, even more so were the characters – but, more on that later. Starting us off was an unusual first chapter that serves as a prologue, as well. When I picked up this book, I was expecting to immediately dive into this messy world of crooks and criminals and reading through the first chapter was quite confusing, but highly amusing. It's the kind of wit and humour that I loved and it was a very good, casual introduction to the world of the 'Grishas', cementing the realness of the story, ever so subtly, that you don't even notice it.
When you do finally meet Kaz Brekker, the bastard of The Barrel, then the fun begins. I'll try not to give any spoilers but if you're a big fan of the movie franchise of Now You See Me as much as I am, then, you'll love the tricks up their sleeves, the twists and the big reveals. That is pretty much the closest comparison I can come up with; I love to be duped and SoC does it very well. Everything that happens is unpredictable but it gives the feel of a planned chaos that I really admire in the writing.
The chapters are written in different perspectives and it really helped to see inside the minds of the dangerous and desperate crew. I have read many other books where character motivations seemed a bit off and in this book, the cost outweigh the benefits but they all have their own reasons for joining in, all justifiable and really making you root for them in this ridiculous plan. Some are even reluctant and unwilling, another unpredictable factor in the mix to really confuse you and doubt that they'll be able to complete this mission alive.
The setting is also something to be applauded, the tiny details mentioned really gave me a colourful and chaotic imagery of Ketterdam. The characters stood out even more in the mismatched extravagance of the Barrel. Even though they are quite young, there wasn't a sense of immaturity. Kaz, for example, is smart, ruthless and may possibly be psychopathic but it's clear that something had happened to make him that way, something that would force you to grow up faster to survive in these streets. It's the same for other characters, though probably not as intense in some.
Although I can't pick a least favourite character, Inej would probably be my most favourite character of all time. She's highly intelligent, witty, charming, badass-all-around AND she's a Women of Colour! I read a post in the past that talked about diversity in books and how they are portrayed. One of the main points was that PoC characters are mainly concerned about their racial struggles and does not talk enough about who they are without tying the colour of their skin to their identity. But, Six of Crows did an amazing job portraying Inej. There is a theme of race regarding her situations, however, she is so much more than just another token PoC. She's The Wraith, she's good at what she does – scary good, she's loyal and a good friend. She's also not a Mary-Sue because she has her flaws, insecurities and fears. All that she is and not all of them are necessarily tied to the colour of her skin.
If there was one bad thing I can point out, it may be the slow parts of the book. The long journey felt bare and uneventful in the middle and tried to make up for it with flashbacks (which weren't unwelcomed). It slowed down the pace and struggled to pick the tension back up again. Thankfully, there are those twists and tricks that you still can't predict so it's not any less exciting. I also would have wanted more thrill and adventure in recruiting the crew but I see how that could have easily have become cliché.
Overall, this brilliant book has made a big fan of Leigh Bardugo in me and I can't wait to get myself a copy of the next book; Crooked Kingdom. The original series, The Grisha Story is now also on my TBR and I hope to find more authors like her. This chaotic world of crooks, with added elements of fantasy, is a hypnotising read. The rich cast of characters, their motives and their development was one of the best I've read in a long time. It really pulled some absurd tricks from under my nose and I highly recommend it!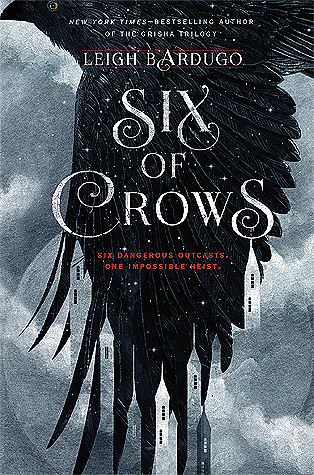 Ketterdam: a bustling hub of international trade where anything can be had for the right price—and no one knows that better than criminal prodigy Kaz Brekker. Kaz is offered a chance at a deadly heist that could make him rich beyond his wildest dreams. But he can't pull it off alone…

A convict with a thirst for revenge.

A sharpshooter who can't walk away from a wager.

A runaway with a privileged past.

A spy known as the Wraith.

A Heartrender using her magic to survive the slums.

A thief with a gift for unlikely escapes.

Kaz's crew are the only ones who might stand between the world and destruction—if they don't kill each other first.
I'm giving this book 5 stars for being all kinds of awesome! But, I'm a tea lover and one of my favourite things to do is read and drink tea so I thought it would be great to rate my books in teacups, thus, I have enlisted my amazing friends' help. Inspired by Soc, here are 5 teacups!
---
Reading this book was a blast but I will admit, I procrastinated finishing it because I didn't want to finish it. Thank heavens the second book is out now, I won't suffer much longer. Have you read this book? How about The Grisha Story? How did you find it? Leave a comment below, I'd love to hear your thoughts on Leigh Bardugo's other books!
From behind the screen,
JY