As a tea-fanatic, as well as a book-lover, these two loves of mine have often been entwined and a good book can be very well enjoyed with a warm cup of tea. Therefore, you'll see the books I've reviewed in order of teacups!
Rave /reɪv/
an extremely enthusiastic recommendation or appraisal
---
Six of Crows by Leigh Bardugo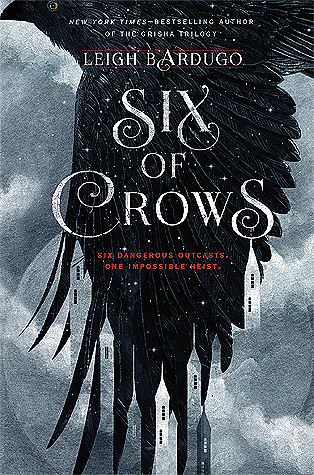 explores the world of The Grisha Story through the eyes of six criminals from the slums of Ketterdam. Their leader, a criminal prodigy, has set them on a course for an impossible heist. Our unusual group of characters, each with their own motivations and agendas, are reluctantly tied together in their first – and quite possibly, their last – mission, gambling their lives for a large sum of money. High stakes, come high rewards and only those dangerous and desperate enough would be able to pull it off. It's exciting, thrilling and will keep you on the edge of your seat with paranoia aimed at the crazy, dangerous plans they'll put themselves through.
Cat Out of Hell by Lynne Truss is witty, whacky and weird: the triple whammy. It's a book of magical realism that will make you laugh at the seemingly cliché talking cat trope and then horrify you in the next page with an account of a painfully slow death. In the perspective of a reaction to an initial reaction at meeting a talking cat, you'll be whisked away into the confusing but, oddly intriguing, trouble of a psychopathic cat, a dead librarian and a contract with the devil himself, feeling just as stupid and clueless as our two narrators compared to our charmingly intelligent cat.
Tell Me Again How A Crush Should Feel by Sara Farizan. I was right in assuming the diversity portrayal (both race and sexuality) would be spot on, regardless of the points taken off, I can relate and understand her thoughts very well. Though this book is light-hearted compared to Farizan's other novel focused on a darker theme of Iranian culture, it managed to tug at the heartstrings just as much. Consider me a big Farizan fan from this moment on. I would love to read If You Could Be Mine and experience a much more complex story, I think she does an incredible job at putting across her feelings for a person of minority and really bringing a new voice to the world. Overall, I will be giving Tell Me Again, a total of four cups! (P.s. these are my worst, hastily drawn cups yet ;-; hopefully, I get some time to re-do them.)
TBA
-The Graces
-The Raven Cycle Series